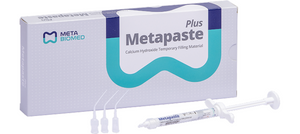 Metapaste Plus (Water-based Calcium Hydroxide Paste)
Faster Dissociation
PPG Free
Antibacterial with high pH: 12.15 (1day) / 12.35 (14day)

Improved flowability: 19-20mm (ISO 6876:2012)
LEARN MORE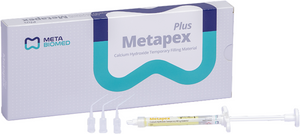 Metapex Plus (Calcium Hydroxide Temporary Filling Material)
Antibacterial with high pH: 12.15 (1day) / 12.35 (14day)
Premixed Syringe type
Improved flowability: 19-20mm (ISO 6876:2012)
High radiopacity: 5.4 Almm
LEARN MORE
An Enterprise that exerts endless efforts for the future based on value innovation and challenging spirit.
For the past 30 years, Meta Biomed has been constantly changing and innovating
for health and happiness of humanity.
Policy of META-BIOMED is to timely supply the best products having top priority on its safety rather than corporate profit to the customers all over the world.